10 Most Awe-Inspiring and WTF Moments at BNLF
Hello everyone! I am writing this blog post to recap IndiBlogger's very own BNLF for those who couldn't make it, and to reminisce on some of the key moments, both seen and unseen.
Thank you to everyone who turned up over the weekend. We know you had a choice of events happening around the country that weekend, and yet you chose to spend it with the IndiBlogger community and BNLF.
We present the 10 most awe-inspiring, crazy, WTF moments at BNLF.
I'm going to take a page out of Jeff Bullas' book and write a post with a list in it :-). This is in no particular order of importance.
One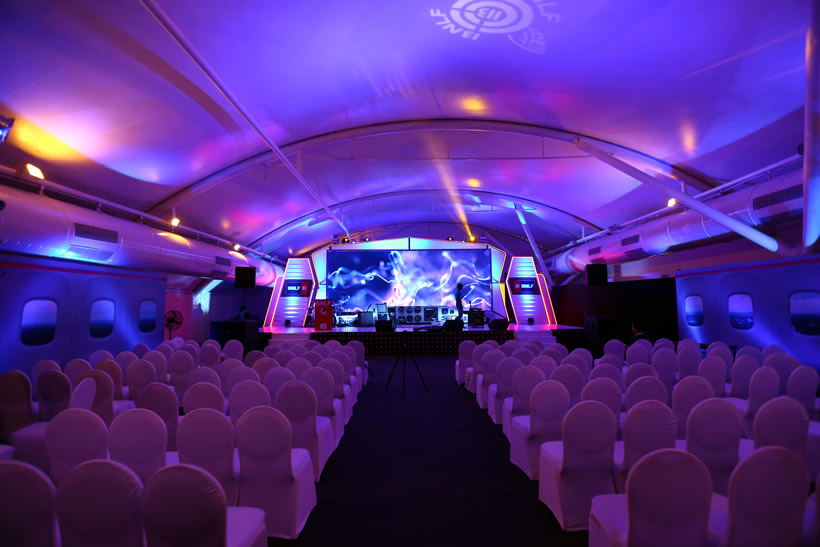 When we conceptualized the idea of BNLF, we envisioned an environment like no other. We wanted a setup that would be worthy of hosting IndiBlogger members from across the world. When we first saw the finished setup, we were thrilled and we hope you were too. We had members flying down from different countries, and from every corner of India. I felt like I was struck by lighting when over 60% of the crowd raised their hands when I asked if there were bloggers who came from outside Mumbai. Just the amount of money people would have spent to make it here made our eyes water a bit. IndiBlogger meets have always been free for everyone registered on IndiBlogger. Even though the entry to BNLF was also free, bloggers still had to spend to get there. For a second, I was speechless on stage. We hope it was worth it…
Two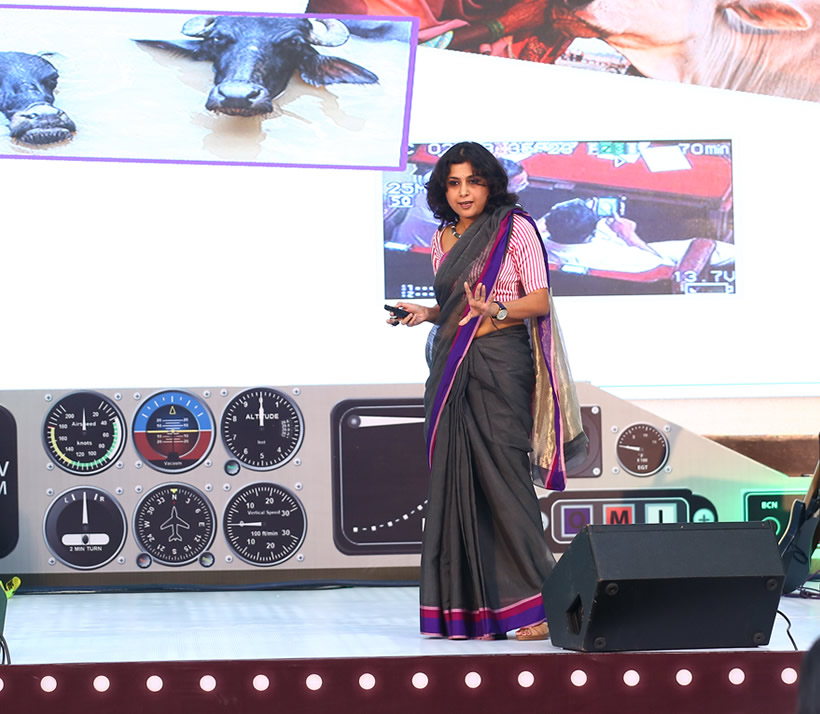 Christoph Trappe's candor throughout the event was refreshing! For instance, when I was looking for him at the backstage party and couldn't find him, I sent him a message asking him why he wasn't there. He replied saying, "I didn't know about the backstage party! I am in my PJ's!" :-). Purba Ray was a bundle of energy. At the start she seemed a bit nervous to get up there, but after her talk she came up to me all bright and sunshiney saying something along the lines of "Hey I didn't do my FAQs, put me back up there" :-). We were not able to speak to Kanan Gill at length because of his hectic travel schedule, so what I thought was to be a talk on video blogging, turned out to be his journey as a video blogger. He mentioned his approach of talking about his journal at some point, and I missed the details. My bad, but hey, I still enjoyed the hell out of that one. Preeti Shenoy and Arnab Ray were also quite excited. Preeti was a keynote speaker at one of our first IndiBlogger events back in 2008, which made it all the more special to have her with us at BNLF. I loved it when Arnab came to us on the second day and said that he could offer constructive advice on character creation. Creating great characters is the cornerstone of every great story, and without a moment's hesitation, we said yes! In the green room, Anshul Tewari blew my mind when he said investors had bought into Youth Ki Awaaz knowing fully well that he had no plans of advertising on his site, a site that was purely based on public opinion. There are very few investors with heart, and we are so glad that he found them.
We didn't send out bulk emails to ask people if they would consider speaking at BNLF. We sent personal emails to people whom we thought were just right to convey the agenda that we had in mind, and everyone said yes, except one who had to drop out because of personal commitments.
Three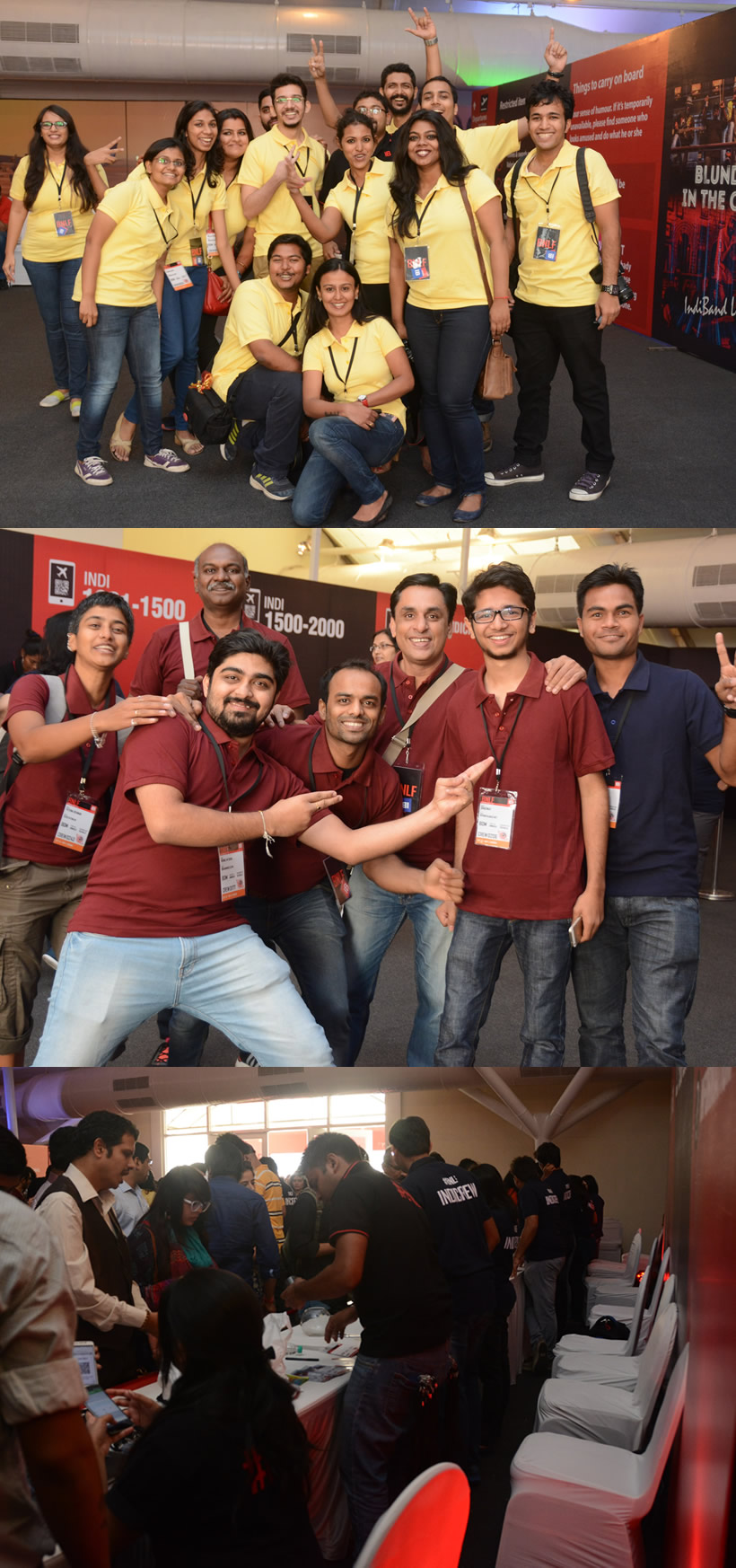 When we were planning the idea of an IndiCrew, I remember we had sent out an email to bloggers saying that "they would not be there to fill the labour gap, but to be a part of organizing the event and to have fun". Oh boy, were we wrong. We needed every able bodied person at all action stations that day! I was working closely with the IndiStage crew behind the scenes, and they were just brilliant. They were like pros, mic-ing up every speaker, cuing in the audio visuals, keeping the green room tidy, etc. I outlined a limited set of processes during the briefing, and these guys managed to figure out the rest. Towards the end though, fatigue set in and the suppressed selfie addiction in some of them popped back up. It was nonetheless a tiny blemish in an otherwise perfect day for the IndiStage crew. The IndiWelcome, IndiPolice and IndiHospitality crews also worked their butts off and missed quite a few of the sessions. We will have a special screening of the talks just for you guys once the videos are processed!
Four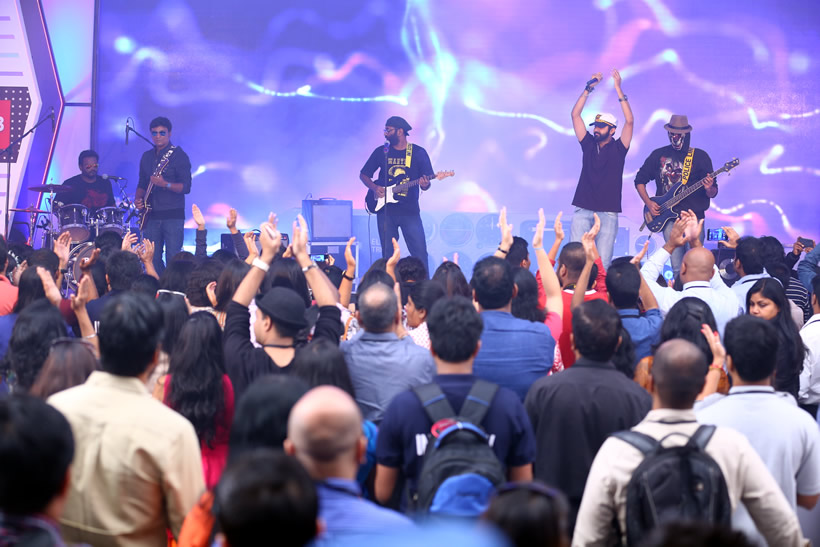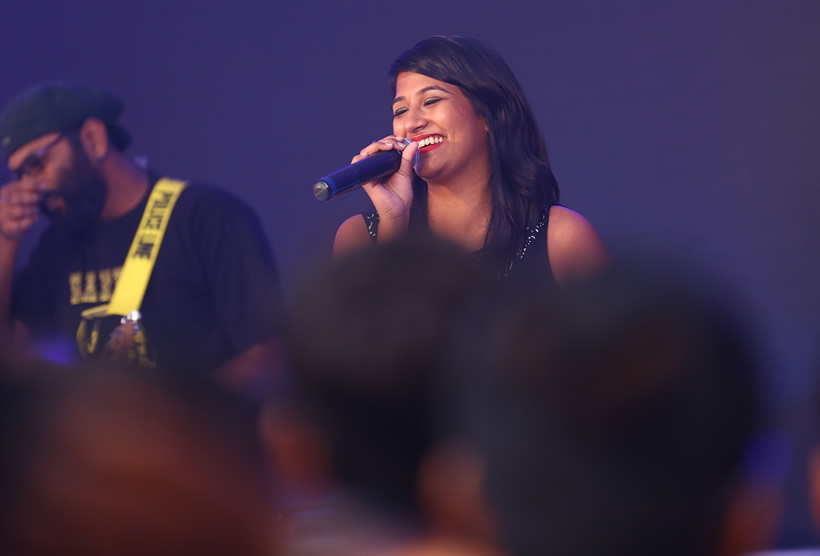 The sound and stage setup took longer than we expected, and the sound check for the band (Blunder in the Code) did not transpire at 9:00 PM the previous day as expected. We had to do it at 6:00 AM (with due permission of course). However, the blaring guitars and screaming vocals sent the hotel staff running around helter-skelter with complaints streaming in from all around. Heh..a true rock band moment. Blunder in the Code is comprised of in-house musicians from our very own team IndiBlogger. This time around, we decided to get our good friend, special guest Nadisha Thomas to lend us her voice so that we could play some songs we wouldn't usually attempt. We felt like a youthful Axl Rose was on stage during Sweet Child O' Mine. Goosebumps. Did you feel that too? I was so excited, that I almost forgot my chords during Jesuwin's hell raising drum solo, and Nihal's guitar theatrics as well.
Five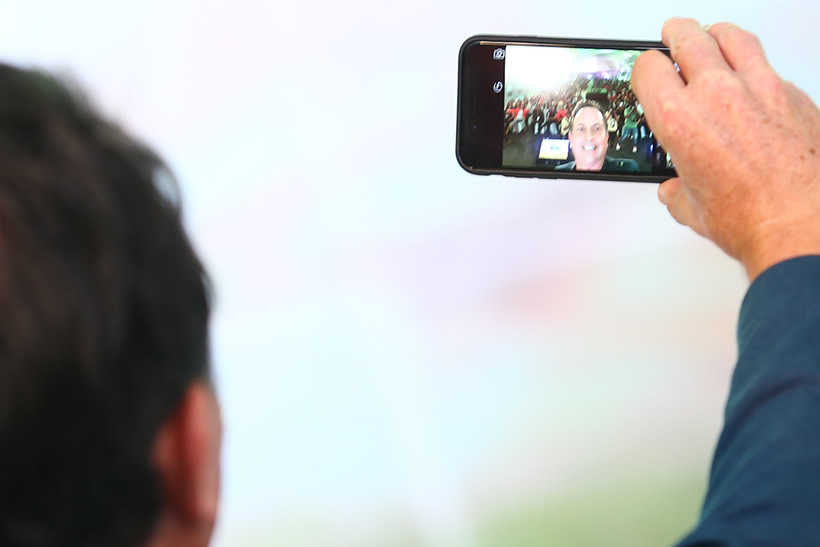 When we were saying our goodbyes to Jeff Bullas, we asked him what his thoughts were on BNLF. One line that he said made my heart skip a few beats… He said "This is digital marketing with a soul". Just the way he articulated it made me tear up again (just a bit). At this point, I looked around at the IndiBlogger team, and saw them having the same epiphany.
Six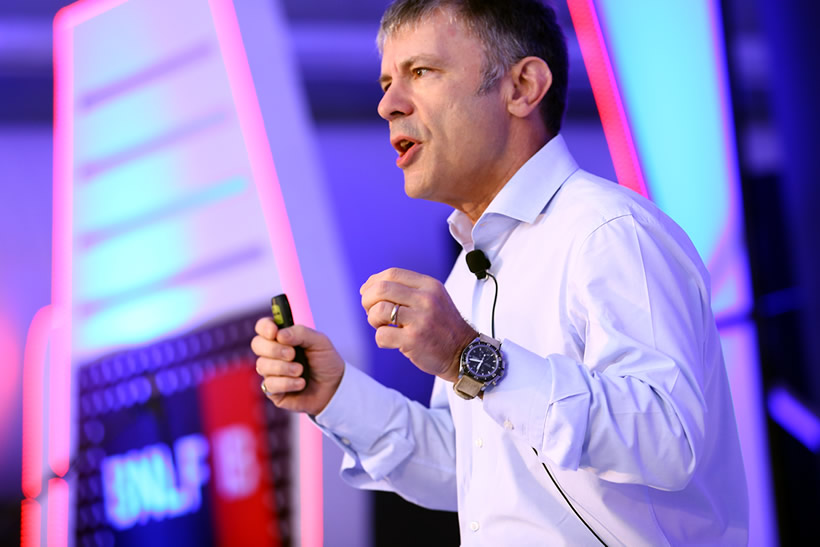 I remember the moment a few months ago, when the final confirmation from Bruce Dickinson's office came in confirming his participation at BNLF. I remember my hands getting cold as I was trying to type a befitting reply. A few hundred tries later, I just said "Thank you, we will get back to you soon". Everything else was a blur, as I walked into the office to tell everyone that the deed was done.
I encountered my most awkward moments in life, when I was around Bruce Dickinson. For the months leading up to the event, like a true fan boy, I thought I had everything nailed down on what I was going to tell Bruce when I met him. At the backstage party, after walking around a bit and psyching myself up, Renie told me that I had to at least say hello. So I walked up to him, only to say "Bleeh, blef, bluben, blah, bluey, boo, blah BLECH!". Then my blood sugar dropped and I heard the "clinking" of our glasses and Bruce saying "Cheers". I still remember that distinct sound. When we were leaving, and the team was there to say goodbye, I thought I should give it another shot. This time, it was a lot better. Absolutely no words came out of my mouth. It was like all the words were stuck in my throat like some alphabet soup. All this is after I was preaching to some folk, who came to me asking to help them get a selfie with Bruce and I told them to have a conversation with him first. The only person who seemed at ease was Renie, and the conversations that he later recounted were more than enough for me. Many celebs have come and shared the IndiBlogger stage in the past, but I have never seen the team and I so starstruck as we were when we met Bruce. I don't think we will ever be again. That's how much he meant to all of us. What did you guys think?
Although, if Eminem comes down, The Captain (Saurabh) would be on his knees, slobbering like a disoriented gremlin.
Seven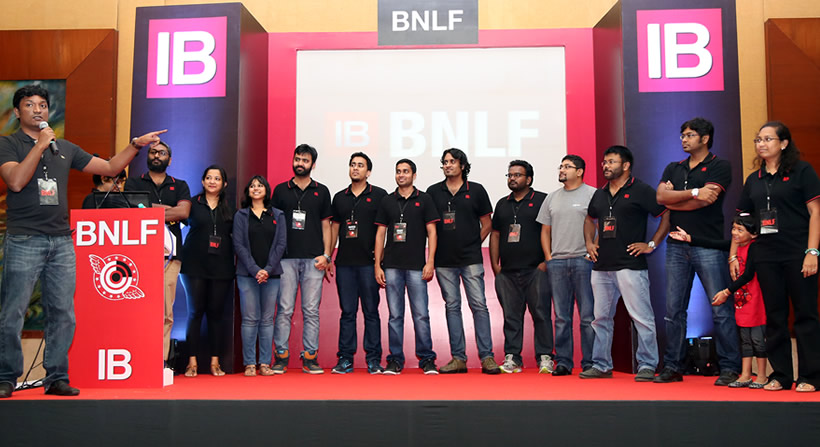 I don't get to introduce the IndiTeam at most of our events. These guys are mostly shy, except for "The Captain" and I who like the limelight :-). This time I made it a point to grab all those buggers, and make them forget all their duties for some time. This time, I had everyone in the hall at the end of day-2, waiting so that I could call them on stage. The energy that they brought, running up onto the stage after a week of no sleep was just what we needed to end BNLF with hoots, howls and hurr-hurrs! I am going to name them all here, because I don't know if I can ever round them up again to do another intro. So here goes, and in no particular order – Renie, Karthik, Vineet, Nitin, Nihal, Swati, Diana, Nandita, Naveen, Vijay, Rashmi, Kavya, Shady, Saurabh, Sainath, Adina, Jesuwin and I (Anoop). BNLF has roughly taken 8 months for financial and agenda planning. These guys helped cut a lot of corners so that we could make this happen. I am speechless at the prolonged commitment from the team towards our ultimate goal.
Eight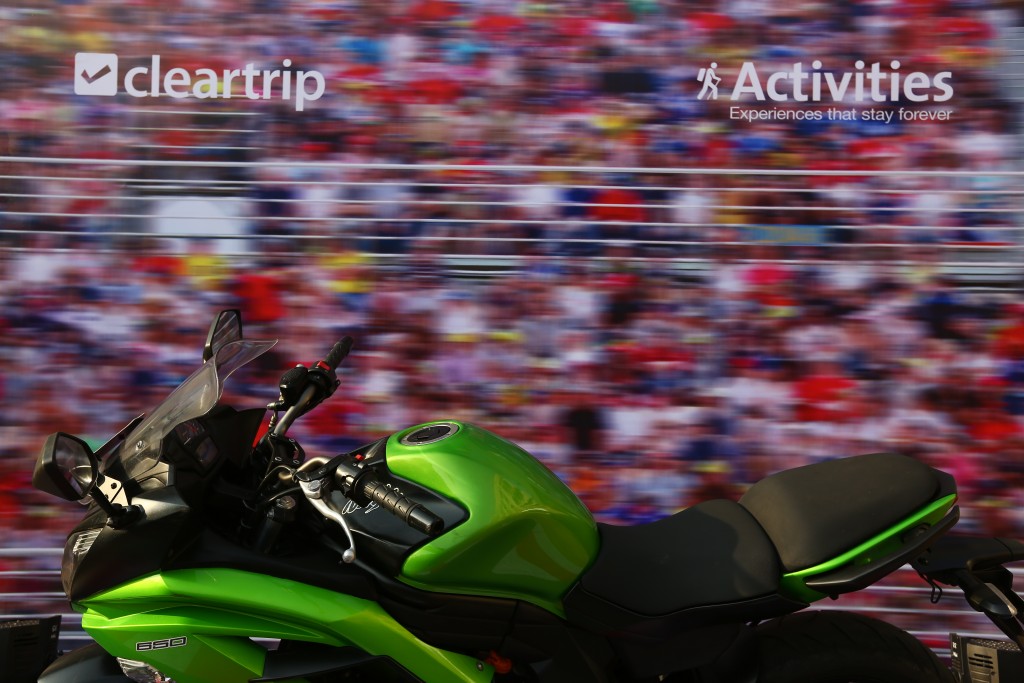 It was great to hear advice from people on myriad subjects regrading BNLF. I was ecstatic – after the execution of BNLF, people still wanted more! That hunger and fire for knowledge and perfection was making my brain bounce around, enabling new pathways to form in a sort of synaptic explosion. Many bloggers were asking us how this event made financial sense,  considering the sheer amount of money we dropped into it without any sponsors. To be frank, sponsors were asking too much of us. They were offering money, but they wanted their CEO to speak and such. We, however, did not want to compromise on the editorial content surrounding blogging. The theme was "The Pioneers of Blogging", and we decided to stick to that no matter what. We took a leap of faith. We gave sponsors a chance to creatively do something on stage, but none of those who approached us showed any inclination towards leveraging their creative IQ. Imagine how stupid it would have been, if before Purba's talk, some marketing guy decided to tell us how awesome his product was. So yes, a ton of money was spent, but BNLF was as pure as ever and stayed true to Blogging. A small price to pay for the greater good. StayZilla and Cleartrip were brilliant though. Cleartrip as part of Cleartrip activities, managed to keep people from getting bored during the breaks by having Harley Davidson motorcycles, Segways and a rock-climbing wall, amongst other things. StayZilla provided free accommodation for out-of-station bloggers traveling to Mumbai for BNLF, and even went above and beyond, organizing a hotel room on the day of BNLF, so that a blogger would not have to travel alone at night. A very noble gesture indeed!
Update – Heineken and Fratelli Wines! How did I miss this one? They added the flavor to the backstage party with their unlimited supply of beverages for BNLF!! The backstage party will be in my mind for ages to come. I took home some very touching conversations with people and stood there with awe as legends walked the halls of BNLF.
The moral of the story is, please continue coming for our regular IndiBlogger meets and try out some creams and the latest gadgets, so that we can have another unadulterated version of BNLF soon! 🙂
Nine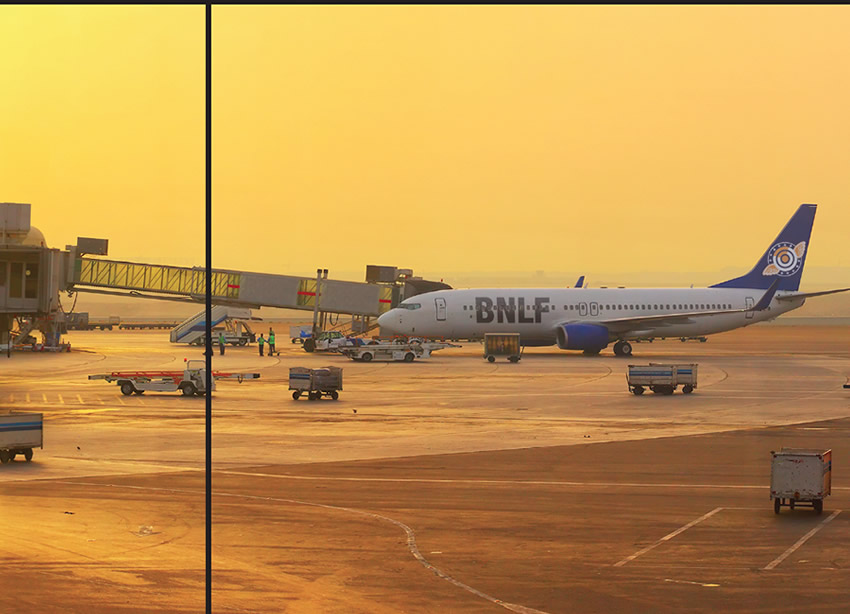 In one of my BNLF posts, I said that we had wanted to create a set-up for BNLF that was unique and memorable. As Arnab rightly said on day 2, a good fantasy needs a world with it's own rules. Our BNLF world was the experience of flying – which we tried to emulate via the blog badges, boarding passes, a QR code check-in system, airport signage and security, and finally – the actual airplane itself where we were flown around the world in 12 hours.
The stage setup I thought was quite different and I liked it a lot. Our event management team led by Rajan Godfrey of EvantsPro, worked with us more like a friend than someone out to do business. This helped us relax through the days leading up to the event, and on the event days as well. There were no surprises, they stayed true to what they could deliver and did everything they could to help. We hope you liked the final creation.
Ten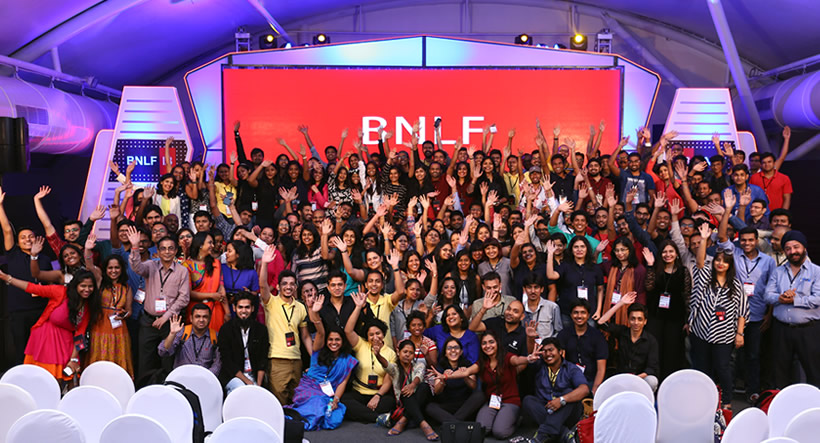 We set out to achieve the following:
To make this a truly global conference, and have some of the most loved personalities from across the world be a part of it.
To try and inspire everyone to take blogging seriously, and write in detail about everything concerning their lives and beyond.
To somehow convey to IndiBlogger members about our passion, our belief in blogging and our genuineness to keep the sanctity of blogging intact.
To host the most disruptive conference on blogging…ever!
From where we stand, we think we did. What are your thoughts and take-aways from BNLF?
Don't forget to tag yourself and your friends on Facebook!
https://www.facebook.com/media/set/?set=a.10153241261317883.1073741871.67564062882&type=3