Her heel caught in a crack on the old sidewalk that was full of them, and her books fell out of her hands and hit the ground almost rhythmically. He thinks that it's the perfect way to meet someone, cliché and nothing embarrassing. She has had enough clichés to last her a lifetime, and now she thinks very little of it.
...........
She doesn't realize how much time she spends with him until she calls him one night to talk about nothing at all, simply for the purpose of hearing his voice. The realization scares her more than she wants to admit, and when he picks up she tells him that she called the wrong number, apologizes, and hangs up.
............
He's always like puzzles. When he was young his father would read him Sherlock Holmes novels, even though he often suspected that his father switched words around so he could understand the mysteries better.
.............
He accompanies her to the library on one occasion, and is treated to the most real emotion he's ever seen in her. The books seem to entrance her like nothing else can. She runs her fingers over worn and new covers alike, her eyes filled with delight at the feeling of so many words at her fingertips. He wants for her to look at him that way. The mystery has grown old, and he wants to see her without any obscurities.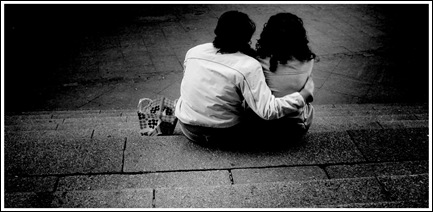 He laughs harder, hugs her closer, kisses her longer, but that trip to the library is the only time he sees such a beautiful expression on her face. She seems, to him, almost incapable of trusting anything other than ink or paper. He resolves to show her how to place her trust in people, in flesh and blood, in someone warm who will keep her warm as well. He wonders how many people have failed her for her to have such little faith in him.
............
"I had a dream about you last night." She tells him. He smiles, pleased at this, and privately considers it a breakthrough.
"Was it a good one?" He asks her teasingly, running his fingers up her arm, just to unnerve her and break through that (now fragile) barrier that she keeps up. She says nothing, but gives him a soft smile.
At the time, he thought that was a good sign, her smile. He realized later that she smiled when she was sad.
............
He walks into her room and sees her curled up in a chair with a book in her lap. It's not anything unusual; a position he often finds her in, and for this reason he grows almost impossibly angry. The mystery has grown old. He wants to know.
"Why do you persist in this, in fantasy, when life has so much more to offer?" He snaps at her, yet his voice grows softer as he speaks. She thinks he stands too close to her at that moment.
She says nothing, but her fingers clench so tightly on the book in her lap that her knuckles turn white.
............
Sometimes she wonders if reading about the perfect love so carelessly portrayed in books has made her incapable of ever truly loving.
.............
Her desires change from wanting him to leave her alone to wanting him to never leave.
.............
She hates those stories sometimes, just for making her long for something unattainable.
.............
He used to shout out the endings to books when he could guess them. He was surprisingly good at it, especially romance novels.
"There's only two ways to end a romance." He often told anyone who would listen, "A failure or true love!"
He doesn't know where they fit in.
He wants to shout out the ending to them, the one he wants.
He shouts three little words to her one day, and can't bring himself to regret it.
She cries when he does.
.............
I love you !